This is my cat Bobby. He's 30+ pounds. Isn't he sexy?
This is how that sexy beast eats. We should all be so lucky!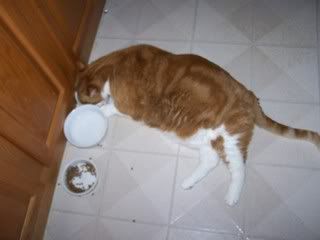 And so my other kitty doesn't lie on my face and suffocate me in a fit of rage tonight, I must include a picture of him. This is Scully. He likes to walk around with trolls in his mouth and yowl. I have yet to get a picture of him with one in his mouth, but here he is looking all evil troll killer, right after letting one go.
And, here is dearly departed Mulder. Yes, I had two cats names Mulder and Scully. Mulder, sadly, suffered acute kidney failure in May of 2007 and had to be put to sleep. *sniff* I miss him. He was the softest, cuddliest cat ever. He he is on his last day of life (because the rest of my pictures are on the external hard drive in a box somewhere) laying beside his water dish, being all sick and dying. :(